Overview
A heel spur is a bony projection on the sole (plantar) region of the heel bone (also known as the calcaneous). This condition may accompany or result from severe cases of inflammation to the structure called plantar fascia. This associated plantar fascia is a fibrous band of connective tissue on the sole of the foot, extending from the heel to the toes.
Causes
Heel spurs develop in some people that have a condition called plantar fasciitis, inflammation of the plantar fascia. Heel spurs form when the plantar fascia separates from the calcaneus. An abnormal bone growth, a hook-like spur, forms from calcium deposits that grow at the site of inflammation. Heel spurs are more common in middle-aged adults and people that have had plantar fasciitis for a long time. People with flat feet or high arches are vulnerable to heel spurs. Women who wear high-heeled shoes are more susceptible, as well.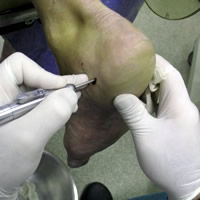 Symptoms
Heel spurs may or may not cause symptoms. Symptoms are usually related to the plantar fasciitis. You may experience significant pain. Your heel pain may be worse in the morning when you first wake up or during certain activities.
Diagnosis
Heel spurs and plantar fasciitis are diagnosed based on the history of pain and tenderness localized to these areas. They are specifically identified when there is point tenderness at the bottom of the heel, which makes it difficult to walk barefoot on tile or wood floors. X-ray examination of the foot is used to identify the bony prominence (spur) of the heel bone (calcaneus).
Non Surgical Treatment
Heel pain may be associated with a heel spur, however the heel pain is usually due to plantar fasciitis, rather than a heel spur, so treatment is usually directed at the plantar fasciitis itself. Treatment usually involves application of ice to reduce pain and inflammation, special stretching exercises, and pain-relieving or anti-inflammatory medicines. Night splints or orthotics may be recommended. It may help to avoid the activities that aggravate pain, such as long walks and running. Surgery is very rarely recommended and only after other measures fail.
Surgical Treatment
Sometimes bone spurs can be surgically removed or an operation to loosen the fascia, called a plantar fascia release can be performed. This surgery is about 80 percent effective in the small group of individuals who do not have relief with conservative treatment, but symptoms may return if preventative measures (wearing proper footwear, shoe inserts, stretching, etc) are not maintained.